Who is AmericaSpeaks?
AmericaSpeaks is a nonpartisan, nonprofit organization with the mission to reinvigorate American democracy by engaging citizens in the public decision-making that most impacts their lives.
Over the past 15 years, we have engaged more than 150,000 people across the country on some of the most pressing issues facing our communities and our nation, including the rebuilding of New Orleans after Hurricane Katrina, economic development in Northeast Ohio, and creating municipal budget priorities for Washington, DC. We have done so through innovative meetings that integrate small-group, face-to-face dialogue with technology to allow thousands of people to deliberate simultaneously about complex public policy issues and express a shared message to decision-makers.
AmericaSpeaks strives to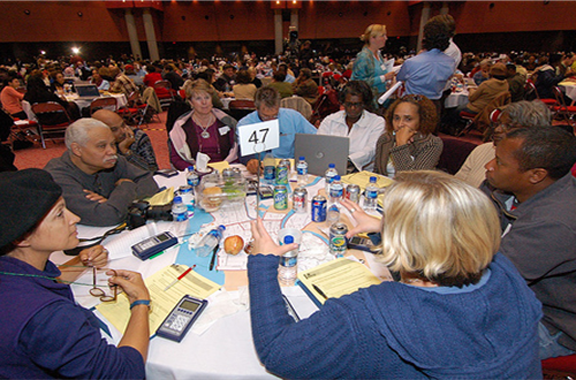 give people an opportunity to have a real voice in public decision-making within the increasingly short timeframes required of decision-makers. As a result, citizens can impact decisions and those in leadership positions can make more informed, lasting decisions.
To learn more about AmericaSpeaks' work, you can browse a list of our previous projects. You can also read our case studies to get a behind-the-scenes look at the planning, implementation, and outcomes of six of AmericaSpeaks' projects.
Find out more at: AmericaSpeaks.org